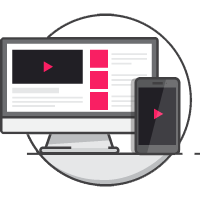 01
SHARE THE VALUE
With our easy to set up solution with almost zero costs, it is now easy to create the kind of content your fans are looking for – match highlights, previews, promo videos and more. Everything is delivered online directly to the device of the subscribed fans. Fans love our apps and web solution.
We have already achieved more than 100 million video views on our paltform, and now we are ready to promote online the passion of your association. Create additional revenue throughout sponsorship or advertisement and redistribute the value between the clubs. Grow crucial revenue sources and income!
02
ATTRACT SPONSORS
With our platform it's easy to promote the right sponsor to the right audience. Up your game, and become a reliable partner for your advertising customers. Show fans your league sponsors on your video pages. Play related ads before each video and charge your partners per view.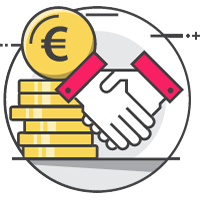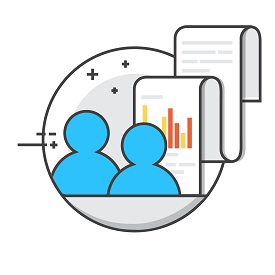 03
MANAGE YOUR CONTENT
Your content is yours. You can create 25 times more relevant sport videos with our platform. Show highlights of the best matches, and let fans vote for the goal of the week. Present the funniest, rarest moments of the game to your community. Sponsors and advertisers love well managed content.
Join now
04
CONTROL DISPUTE
We challenge you to see disputes about penalties or red cards in a whole new way. Each member of the referee committee can see the situation on his/her smartphone or computer online and make their own decision as to the consequences. From now on, all situations like this are stored and easy to access for all relevant members.
05
YOUR HIGHLIGHTS. CAPTURED.
It's simple

DOWNLOAD OUR APP

SET UP THE BROADCASTING VENUE IN 30 SECONDS

CAPTURE HIGHLIGHTS

THEY ARE AUTOMATICALLY SHARED ON YOUR CHANNEL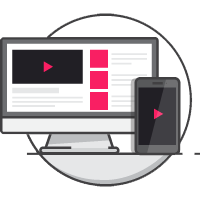 06
EASY TECHNICAL SOLUTION
One match, one man and one smartphone.
Our solution set-up time can get up and off the ground less than 20 seconds before the match starts.
Why do we use humans instead of automatic systems? Well, sport is all about emotions. You know this, your community does too. Machines have no emotions. People do. Our camera guys are crucial to our community. They're often some of the biggest club fans, and are as passionate as we are about changing the rules of wealth distribution in sport.
07
START CAPTURING YOUR TEAM'S HIGHLIGHTS TODAY!
DON'T LET ANY OF YOUR TEAMS MISS OUT ON CAPTURING THEIR GAME HIGHLIGHTS!
Join the Sport.Video movement today!
Join now
08
EVERY PACKAGE INCLUDES

Channels

Online highlights

Sponsorship share

Access to statistics

Social media integration
Join our movement today.
We are unique solution to help to create new revenue streams for under-financed amateur clubs, leagues and federations. Simply create your very own channel. Then you can create leagues, add clubs and teams and capture highlights with your smartphone anywhere anytime.
But if you prefer apps, simply download our app and you can do the whole process there.